Voter Registration
Your vote counts in Pennsylvania. Registration is now online: click here to register today.
Need to know
In Pennsylvania, Teach PA is leading the way among nonpublic schools as the only Jewish group in the state focused exclusively on day school advocacy. During the past year, Teach PA supported and advocated for nonpublic per-student funding for textbooks, other instruction equipment and materials and security aid, for a total of $119 million – a total of $470 per nonpublic school student.

Of the 3,000 Jewish day school students in Pennsylvania, 40 percent qualify for and receive scholarships for low- and middle- income families as a result of the state's tax credit programs, EITC and OSTC. Teach PA led a rally in Harrisburg to boost those programs.
Scholarships for Students: EITC and OSTC
Teach PA fights relentlessly for Pennsylvania's educational tax credit scholarship programs, EITC and OSTC. This year, with the programs at an historic $175 million, Teach PA, in partnership with the Jewish Federation of Greater Philadelphia, conducted an EITC appreciation letter-writing campaign. Teach PA organized school participation and collected 700 letters. Teach PA delivered these letters to legislators in Harrisburg and the personal notes, written by students, were discussed in Teach PA's subsequent meetings. Legislators and their staff recognized that this endeavor represented a community-wide interest in civic engagement and appreciation for two programs that are so critical.

Teach PA co-sponsored an EITC rally on the steps of the Capitol and brought students and community advocates to Harrisburg for a day of advocacy. The students and staff came from Kosloff Torah Academy High School for Girls; Torah Academy of Greater Philadelphia; Jack M. Barrack Hebrew Academy; The Mesivta High School of Greater Philadelphia; Politz Hebrew Academy; The Silver Academy; Kohelet Yeshiva; Talmudical Yeshiva of Philadelphia; and the CBS Community Center. In addition to attending the rally, students had meetings with their legislators, learned hands-on civics lessons and toured the capitol building.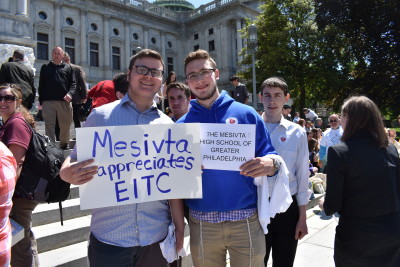 Keeping Students Safe:
In 2014, Teach PA crafted and helped get an amendment approved to the state's $3.9 million Safe Schools Targeted Grants Program so Jewish and other nonpublic schools can apply for grants to hire security officers. Additionally, during the past few years, Teach PA has helped seven Jewish day schools secure $40,000 grants each for security guards.

During the past year, Teach PA worked to avert cuts to the Safe Schools funding and is working with the legislature to expand the program to include security equipment. Through the program, nonpublic schools and other nonprofit entities are eligible for grants of $40,000 for a school police officer.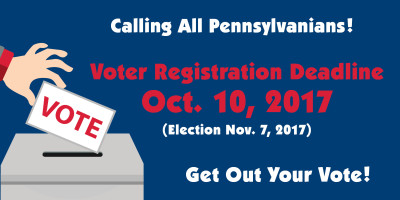 Ongoing Advocacy
Safe Schools
Security is of utmost importance for Jewish day schools. Teach PA is working with schools to maximize all available funding and increase funding levels.
EITC/OSTC
Teach PA fights to secure state funding for nonpublic schools and to encourage advocacy and civic engagement in Jewish communities across the state.


Securing Local and State Funding for All Our Children
Teach PA is the only Jewish group in the state focused exclusively on day school advocacy. By working directly with school leaders and parents, Teach PA assesses needs and communicates on behalf of the schools with coalition partners and legislators. Teach PA values the work of partner organizations, both in and out of the Jewish community.
"We are very grateful to have been awarded this grant and thank Teach PA for guiding us through the application process."